12 May

When Infrastructure Works, We All Benefit
As we celebrate Infrastructure Week, it's important to recognize the role that modernizing our infrastructure plays in promoting a more sustainable and resilient future. Investing in our aging infrastructure not only addresses pressing issues such as safety hazards and productivity decline, but also helps us mitigate the effects of climate change. The Bipartisan Infrastructure Law (BIL) represents a major step towards modernizing and improving infrastructure and promoting sustainable growth in the United States. This investment in our infrastructure is crucial for building a more connected, resilient and sustainable future for generations to come.
Modernizing our infrastructure not only extends its lifespan but also improves its efficiency and resilience. This year's Infrastructure Day theme "Infrastructure Works" is particularly relevant given the importance of investing in our aging infrastructure, but also represents a significant step forward in creating jobs and promoting sustainable growth. With the historic passing of the BIL in 2021, more than $195 billion in funding has already been deployed across the nation and territories to help support this initiative.
The BIL provides funding for a range of infrastructure initiatives, including modernizing roads, bridges and public transit systems, improving access to high-speed internet in rural and low-income areas, expanding the country's electric vehicle charging network and upgrading the country's water infrastructure. This major piece of legislation also includes significant investments in climate resilience and mitigation, such as funding for wildfire prevention, flood protection and carbon capture technologies.
We know that modernizing our infrastructure is also crucial for promoting innovation, technological advancements and jobs creation. We have supported these efforts through our work with municipalities and public agencies in a variety of sectors, including Water and Transportation.
Here at K&A, we value the role strategic communication and public outreach plays in infrastructure modernization today, including these projects:
City of Morro Bay Water Reclamation Facility
$9.3 million was awarded to the City of Morro Bay by the U.S. Department of the Interior as part of the WaterSMART Water Recycling and Reuse grants program under the Bipartisan Infrastructure Law. The Water Reclamation Facility Program was successfully completed in 2023 and involved the replacement of the City's existing wastewater treatment plant with an advanced water purification facility that will meet state regulations and protect the environment. The program is the largest-ever public works project in Morro Bay and will be capable of providing up to 80 percent of the City's water needs in the future.
Mid-Coast Extension of the UC San Diego Blue Line Trolley
The Mid-Coast Extension of the UC San Diego Blue Line Trolley received its final environmental clearance in 2014 and began construction in 2016. The project's budget was approximately $2.17 billion, with half of the funding provided by the San Diego region's voter-approved half-cent sales tax for transportation improvements, TransNet, and the other half provided by the Federal Transit Administration. Construction activities began in October 2016, and the Trolley extension opened for revenue service on November 21, 2021, on time and on budget. The project's success is a testament to the value of investing in infrastructure and the positive impacts it can have on communities. The BIL provides the opportunity to continue making investments like the Mid-Coast Trolley Extension, modernizing, and improving America's infrastructure while promoting sustainable growth.
Sites Reservoir
$30 million from the Bipartisan Infrastructure Law was committed to pursuing the 1.5 million acre-feet, off-stream water storage project in Maxwell, Calif., which will have statewide benefits for people, agriculture, and the environment. Sites Reservoir will not rely on snowmelt, but instead will capture winter runoff from uncontrolled streams below the existing reservoirs in the Sacramento Valley. Because of this, it will inherently adapt to future climate conditions and will be operated to improve water supply resilience to the predicted changes in weather. Much of the rainfall from extreme events – especially those that occur back-to-back when the ground is saturated – runs off before it can be captured for maximum environmental, urban and agricultural benefit. Once operational, Sites Reservoir will provide a resilient and reliable supply of water for California's environment, communities and farms for generations to come.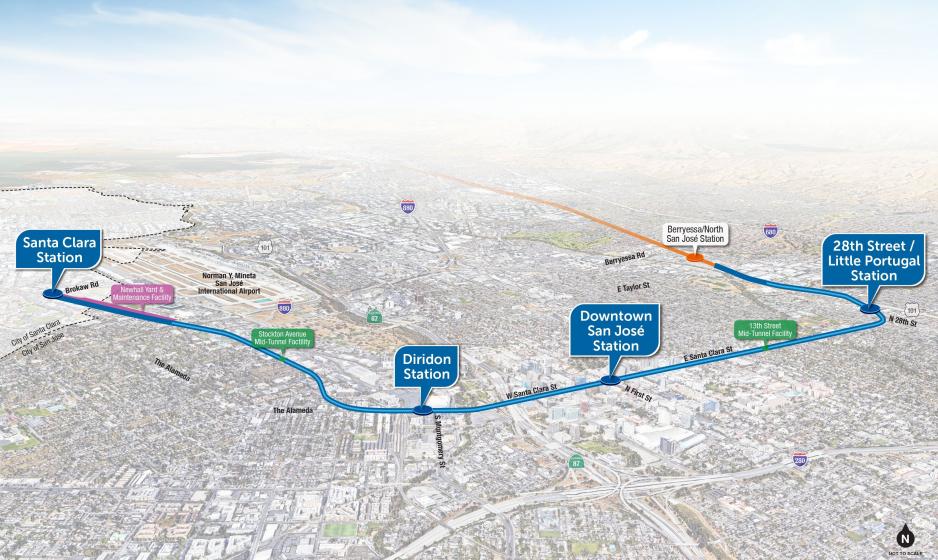 BART Silicon Valley Phase II
The Bay Area Rapid Transit (BART) Silicon Valley Phase II project will extend BART service into downtown San Jose, terminating in Santa Clara, and add four new stations. With a total budget of approximately $9.3 billion, funding for the project comes from various sources, including federal and state grants, regional transit agencies, private investment and local sales tax measures. The project's primary sponsor is the Santa Clara Valley Transportation Authority (VTA), with a funding commitment of $1.5 billion from local sales tax measures, including the Measure A sales tax approved by Santa Clara County voters in 2016. The project will improve transportation access throughout the region, providing a fast, reliable and sustainable transportation option for commuters, residents and visitors. The project will also create jobs and stimulate economic growth while reducing traffic congestion and air pollution. With early construction activities beginning in 2023, and major construction starting in 2025, the project is expected to be completed in 2030. The project's success highlights the value of investing in infrastructure and the positive impacts it can have on communities.